Inspiration.  Dedication.  Giving.
Inspiration that leads to a dedication to giving.
We are talking today about volunteers.  Every non-profit needs and depends on them.  Non-profits are historically understaffed but determined to serve their community and mission.  ThorpeWood is no exception – and our loyal volunteers help us in so many ways.
What is it that encourages volunteers to be so giving of themselves?  Every one of us leads a busy life, and it would be so much easier to just stick to the activities of our own daily life that need attention, rather than seeking out ways to give back and serve others.
But, that is the very nature of a volunteer.
We began this post with these three words:  Inspiration; Dedication; and Giving.
Volunteers come to ThorpeWood because they are inspired by our pristine natural bounty – who wouldn't love the opportunity to spend their time in a place like this?
 Volunteers come to ThorpeWood because they are dedicated to our mission – to share our property with those in our community who can benefit from time spent in nature.  From kids participating in our Equine Assisted Learning program:
To helping bring our community members together to celebrate everything from star gazing:
 To barn dancing:
To the holidays: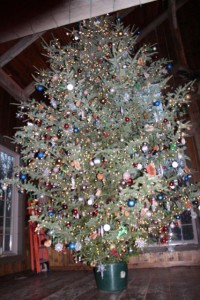 Volunteers help to make these things happen.  Their dedication to the mission of ThorpeWood enables them to be giving of their time, energies, abilities and talents.
And they always have fantastic attitudes and smiles – whether they are refilling cookie trays at the Open House, stacking hay bales to decorate the barn for the Barn Dance, putting out toppings for our Ice Cream Social, or taking and sharing photographs that capture ThorpeWood's special spirit – ThorpeWood volunteers always do it with joy in their hearts, and we couldn't appreciate them more!
If you think you might be interested in volunteering your time at ThorpeWood, please call us at 301-271-2823.  Our upcoming race on September 1st – which will raise money to help allow children from Frederick County's YMCA youth programs to enjoy ThorpeWood's property and programs – could use some extra help.  Get in touch if you think you might be able to lend a hand!
Volunteers – they help us to remain inspired and dedicated to giving our all to further ThorpeWood's mission, and we thank them so very, very much.